Wisdom of the ESG Selector Awards: Etica Obbligazionario Breve Termine wins in the European Bonds category.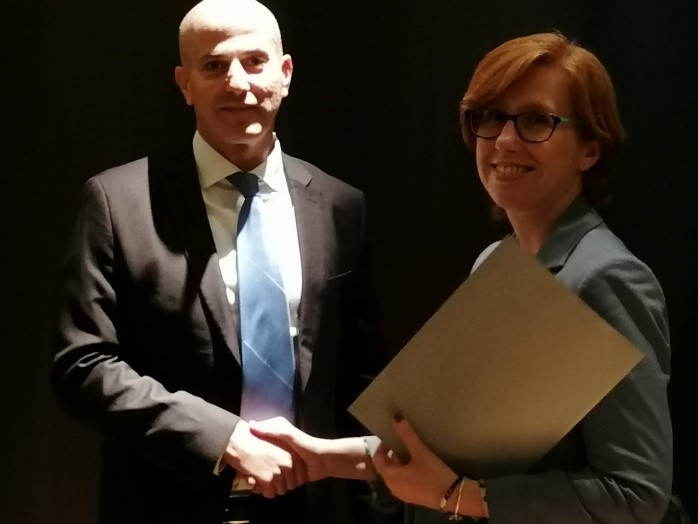 The inaugural Wisdom of the Selector Awards in Amsterdam hosted around 150 participants from across Europe, who came to explore the topic of sustainable investment, assess their strategies and share best practices.
Collecting the award on behalf of Etica SGR was Arianna Magni, Relationship Manager – Institutional and International Business Development.
We are proud of this result, which further demonstrates the effectiveness of our fund selections. We have been working with passion for nearly 20 years in the SRI field, showing in concrete terms that taking ESG factors into account when selecting securities adds value and helps to enhance the risk/return profile.

Arianna Magni
 Wisdom of the Selector Awards
The Awards were set up as part of the FundForum Global ESG & Impact trade show in partnership with SharingAlpha, the fund rating platform that enables fund buyers to create a proven track record of their selections. The aim of the Awards is to recognise funds that achieve a good rating for both ESG-related factors and their future chances of generating alpha: i.e., the measure of the active return on an investment.
To find out more, please visit the SharingAlpha website.
Attendees of the FundForum Global ESG & Impact show in Amsterdam were able to explore best practices and investor opportunities relating to ESG funds, the impact of investments and future industry trends.
The Wisdom of the Selector Awards was an ideal opportunity to shine a spotlight on the asset management companies most committed to real ESG impacts, and to combat greenwashing.
Voting on the funds
More than 200 fund buyers from the SharingAlpha community took part in the voting process.
They were invited to visit the SharingAlpha platform by mid-October, choosing from around 60 nominated funds, divided into the following eight categories:
Global Equities
US Equities
European Equities
EM Equities
Global Bonds
US Bonds
European Bonds
EM Bonds
The funds shortlisted for the first Wisdom of the Selector Awards came from the following suppliers:
I fondi preselezionati per il Premio Wisdom of the ESG Selector provenivano dai seguenti fornitori: Alliance Bernstein; Artisan Partners; Atlantis; AXA IM; Binyuan Capital; Capital Four; Degroof Petercam; Diamond Capital; Eaton Vance; Etica Sgr; MainFirst; Fondsmæglerselskabet CABA Capital; Funds for Good; Fundsmith; Goldman Sachs AM; iM Global Partner; Imantia; Iron Trust; JOM; La Financiere de l'Echiquier; M&G Investments; Miller/Howard Investments; Moneda; NN IP; Nordea Asset Management; Pacific; Perfin; Polar Capital; Probabilities; Silverdale; Smith & Williamson; Stanwahr; Syz Asset Management; Tork Capital; Triodos Investment Management e Yanqi Capital.
---
Please read the Warnings. 
Notes and references:
[1] The Coal-laborators revealed