Etica Sgr has won the award Top Fund Manager – Italy Small from the German Quality and Finance Institute for the third year running.
Choosing investment solutions is not an easy task for investors. There is a very broad offering with huge differen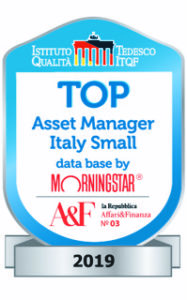 ces between products. Every year the Istituto Tedesco Qualità e Finanza examines the mutual funds/SICAVs distributed in Italy.
The news is that once again this year Etica Sgr was named Top Fund Manager in the Italy Small category. This is the category for Italian SGRs with assets of less than 5 billion euros in open funds.
The prize is awarded by Istituto Tedesco Qualità e Finanza, an independent body specializing in market analysis and comparisons of financial products in Europe.
The institute compared the Morningstar data on open funds in the ten most important categories in Italy.
How the Top Fund Manager is determined
The funds were analyzed on the basis of two criteria, return on capital and protection of savings:
Average annual return over the last five years (period of observation: 1 November 2013 – 31 October 2018);
Risk measured by the maximum drawdown in the last five years.
The fund managers were then ranked by the sum of the points earned in each of the 10 categories.
The analysis covered all funds sold in Italy (only retail classes) with a history of at least 5 years and with a volume of at least 7.5 million euros.
For more information: ​www.istituto-qualita.com​
Responsible finance
Awards
Come investire