For the seventh consecutive year, Etica Funds won the award for the Top Fund Manager 2023 – Italy Small Category– assigned by the German Quality and Finance Institute ("ITQF")[1], an independent entity, specialising in market research and comparisons between financial products in Europe[2].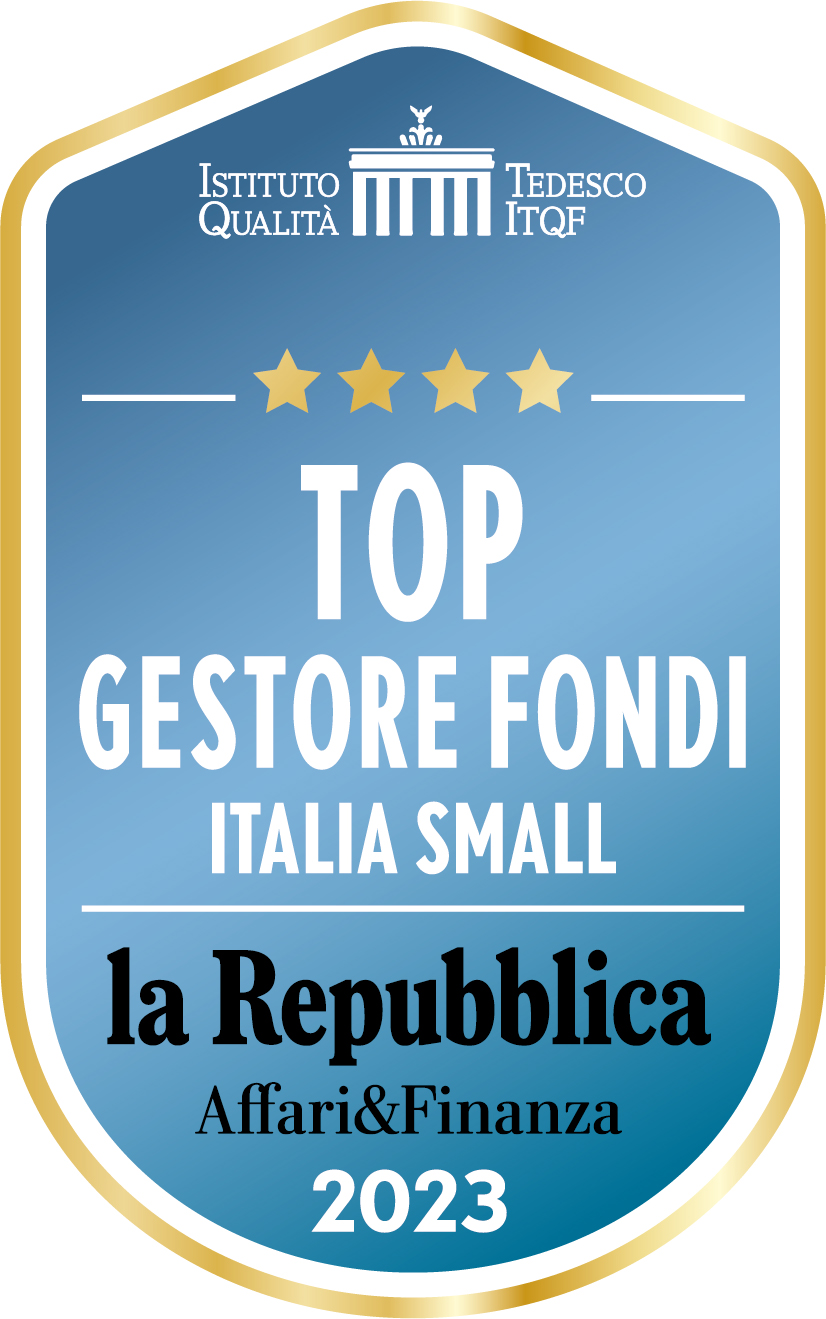 Etica Funds is recognised as the Top Fund Manager 2023 – Italy Small
Etica Funds was awarded a prestigious award, coming in third in the rankings of the "Top Fund Manager" – Italy Small Category, drawn up by the German Quality and Finance Institute.
The assignment of the "Top Fund Manager" award covers 4 classes plus 2 Green awards, to take into account market diversity and ensure a proper comparison.
The "Italy Small" category includes all AMCs with assets up to € 10 billion.
The achievement of this prestigious award for the seventh consecutive year, confirms Etica Funds' view that sustainable and responsible investments, which are currently becoming increasingly central to investment decisions, make it possible to integrate opportunities of medium-long term returns, with the safeguarding of our territory, the environment, human and social rights.
The German Quality and Finance Institute, an independent entity specialising in analysing and comparing financial products, compared the data from Morningstar, a leading provider worldwide in independent research on investments, on open funds belonging to 10 different categories, considered as the most relevant in Italy:
Equities Italy
Equities Europe
Equities Emerging Markets
Global Equities
Balanced Prudent
Balanced Aggressive
Balanced Flexible
Alternatives
Government Bonds (Europe)
Corporate Bonds (Europe)
The comparison for each category is based on two criteria:
Return on capital
Risk for savers
Return and risk, the two awarding criteria
More specifically, to be judged as a Top Fund Manager 2023, an analysis was conducted on the basis of two criteria that take into account the return on capital, and at the same time, the protection of savings:
the average annual return for the last five years (reference period: 01/01/2018- 31/12/2022);
the risk expressed as the maximum loss percentage over the last five years, so-called "Max Drawdown" [4]
Funds analysed within each category were classified according to their annual average performance (return) and based on the maximum loss percentage (Max Drawdown). The final score was obtained from a weighting of the two values (66% return vs. 33% Max Drawdown).
The ranking of Top Fund Managers 2023 for funds distributed in Italy
A score was assigned to all funds to draw up the ranking of asset management companies, according to their position within the 10 categories analysed as shown above.
All funds distributed in Italy were considered (only the retail classes) with a history of at least 5 years and assets under management for at least € 7.5 million – with only one class per fund (the oldest).
The same funds were included to recognise the sustainable funds, but considered according to a high Morningstar Sustainability Rating, divided between Italian and international managers.
---
[1]Seal issued by the German ITQF Institute on the basis of a return and risk analysis of open funds sold in Italy to retail clients, conducted in January 2023, against the payment of an annual licence fee.
[2] For additional information, go to www.istituto-qualita.com
[3]For additional information, go to https://istituto-qualita.com/fondi-2023/
[4] Past performance is not however indicative of future returns.
Disclaimer
Marketing communication from Etica Sgr S.p.A.
Information from the sources indicated in this document has been deemed to be reliable and in good faith by Etica, which provides no guarantee regarding its accuracy or reliability and declines any responsibility for any damage or loss that may result from the use of or reliance on this information. Investors should conclude an investment transaction only after having fully understood their overall characteristics and degree of exposure to related risks by carefully reading the Prospectus and the key information document (KID), which, together with information on sustainability pursuant to Regulation (EU) 2019/2088, can be found at www.eticasgr.com. The investment specifically concerns the acquisition of shares in Etica System funds and involves risks related to possible changes in the share values, which are in turn affected by fluctuations in the value of the financial instruments in which the funds' resources are invested. Investing in Etica System funds offers no guarantee of return and does not ensure repayment of initially invested capital. Any future returns are subject to taxation, which is based on the personal situation of each investor and may change in the future. The investment goals, situation and financial needs of potential recipients have not been taken into account in the drafting of this communication. It can therefore in no way be interpreted as investment advice. The recipients of this communication assume full and absolute responsibility for the use of the information it contains, as well as for any investment decisions made on the basis thereof, since any use of the information as support for investment decisions is not permitted and is at the investor's own risk.