Dire, fare, DISARMARE[1]. Ethical finance puts humans and the planet in which we live at the centre of economics, finance and business. Moreover, it means reformulating financial ends and means to create economic value to grow the common good.
Etica Funds says no to all weapons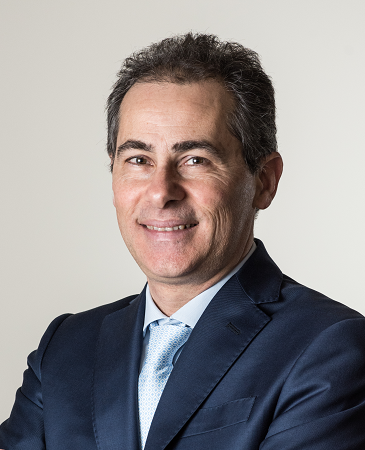 "Disarmament is a very important topic for Etica Funds – defining, even. Our mutual funds have refused to deal with weapons manufacturers since they were established in 2003. Thanks to our ethical approach to finance, we are actively contributing to one of the founding principles of the Italian Constitution: "Italy rejects war as an instrument of aggression against the freedom of other peoples and as a means for the settlement of international disputes" (Art. 11).
Luca Mattiazzi, General Manager of Etica Funds
Ethical finance has always stood against the proliferation of weapons. Etica Funds excludes nuclear, controversial and conventional weapons from the funds in which it invests. Specifically, the following categories are excluded from Etica Funds' investment funds:
companies whose turnover derives from the manufacture of conventional weapons, their specific or generic components, or other products or services intended for military use;
companies involved in the development, production, use, maintenance, distribution, storage, transport or sale of controversial weapons or key parts of controversial weapons (anti-personnel mines, cluster munitions, chemical weapons, biological weapons, nuclear weapons, non-detectable fragments, incendiary devices, blinding laser weapons, white phosphorus munitions, depleted uranium).
The "Don't bank on the bomb" report launched by ICAN and the Dutch NGO Pax places Etica Funds in the "Hall of Fame", the list of businesses that do not invest in nuclear weapons producers.
ICAN – Nobel Peace Prize winner and commitment to nuclear disarmament
Etica Funds collaborates with ICAN (International Campaign to Abolish Nuclear Weapons), a Swiss organisation that in 2017 was awarded the Nobel Peace Prize for its "work to draw attention to the catastrophic humanitarian consequences of any use of nuclear weapons."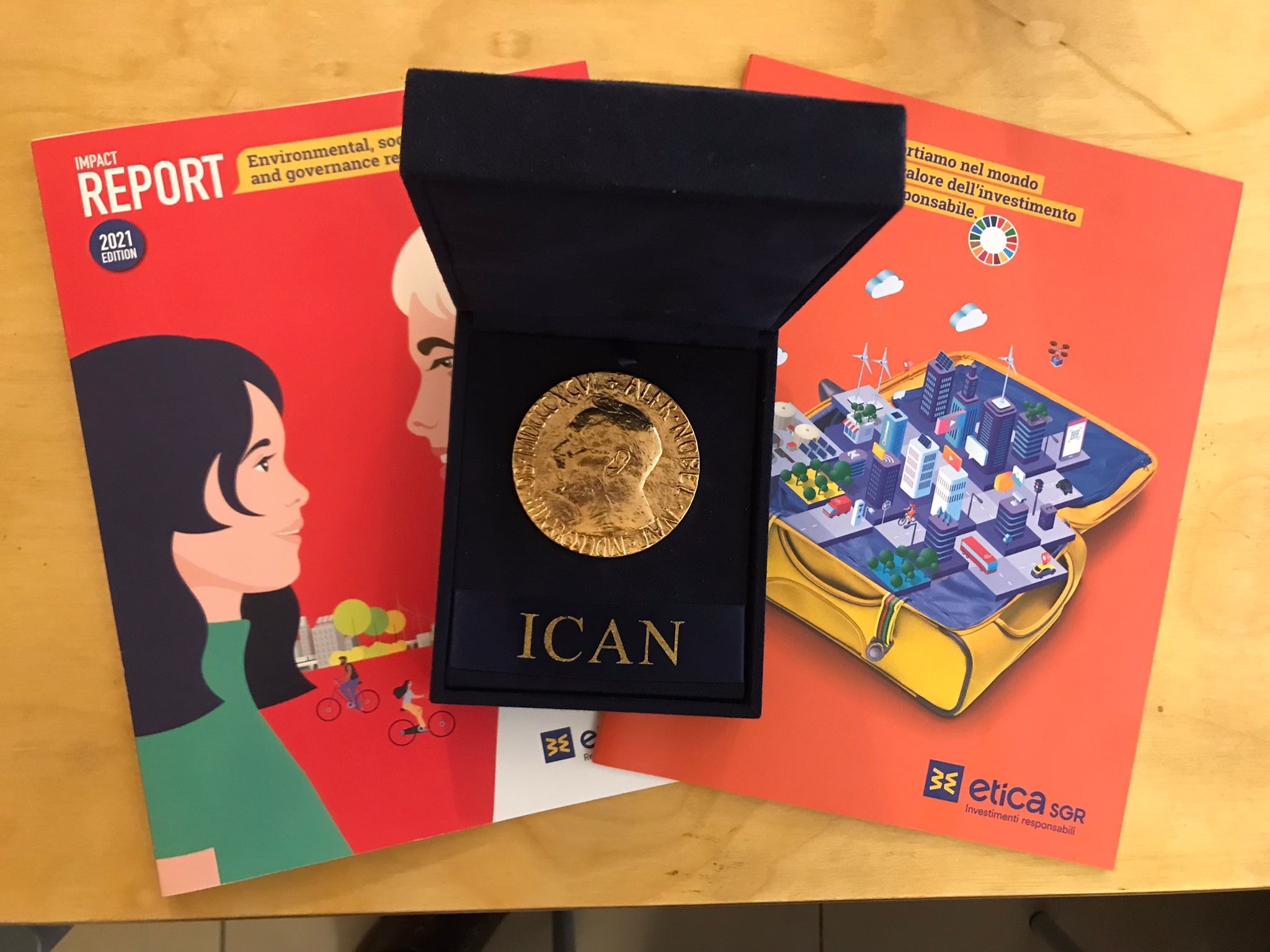 ICAN is a non-governmental organisation founded in 2007, registered in Geneva. Its Italian partners are Senzatomica and Rete Disarmo. The mission of ICAN is to mobilise civil society across the world to support the specific objective of negotiating a global nuclear weapon ban treaty.
The commitment of Etica Funds and ICAN
Etica has supported the "Italia, ripensaci" campaign promoted by Senzatomica and the Rete Italiana Pace e Disarmo (RIPD), ICAN's partners in Italy, since late 2021.
The campaign was launched in October 2016 at the vote of the United Nations General Assembly First Committee on the resolution to establish a legally binding instrument for the decommissioning and ban of nuclear weapons.
Etica is supporting the campaign by attending and sponsoring certain events.
November 2021
Etica Funds participated alongside Senzatomica and RIPD in a meeting with the Welfare and Health Councillor of the Municipality of Milan. During the meeting, an ICAN representative met the General Manager of Etica at the offices of Etica Funds.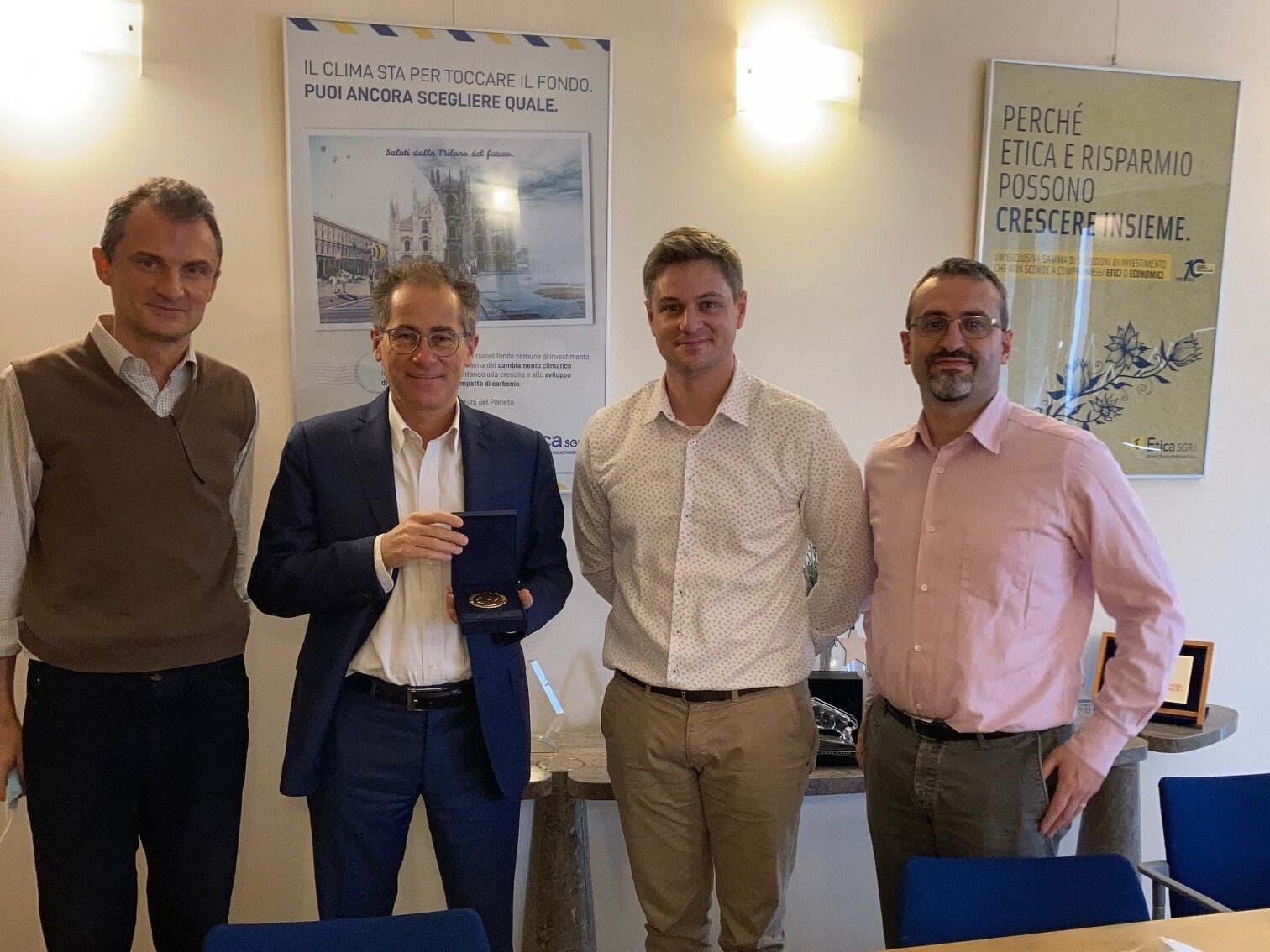 January 2022
To mark the celebration of the first anniversary of the entry into force of the Treaty on the Prohibition of Nuclear Weapons (TPNW), Etica Funds took part in the online event "La forza del Trattato TPNW: miliardi di dollari già sottratti al business delle armi nucleari" organised by Senzatomica and RIPD.
February 2022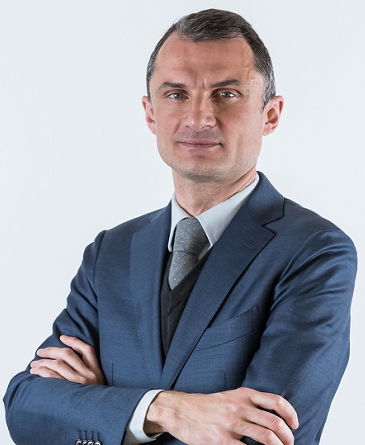 Etica Funds participated in the event "Il Trattato TPNW contro le armi nucleari: risultati raggiunti e prossimi passi sul tema" in Milan as part of the "Italia, ripensaci" campaign promoted by Senzatomica and Rete Italiana Pace e Disarmo, with the collaboration of Aldo Bonati, Corporate Engagement and Networks Manager at Etica Funds. The event focused in particular on financial divestment from nuclear weapons production and nuclear arsenals, the dialogue with politicians aimed at enabling Italy to attend the TPNW First Meeting of States Parties in Vienna, and the positive role played by local authorities in promoting disarmament. Also speaking at the event was Laura Boldrini, the first signatory of the resolution which was recently approved by the Foreign Affairs Committee of the Chamber of Deputies.
June 2022 –  Treaty on the Prohibition of Nuclear Weapons First Meeting of States Parties
Etica Funds attended the Treaty on the Prohibition of Nuclear Weapons First Meeting of States Parties in Vienna, held on 19 to 23 June 2022.
Sunday 19 June – ICAN Nuclear Ban Forum
The Forum organised by ICAN was held over two days and brought together internationally recognised experts on social change and innovation, academics and scientists. Etica Funds will take part in a round table focused on the power of asset management companies to promote disarmament in countries and divert investments towards sustainable activities with positive social impacts.
Tuesday 21 June – Treaty on the Prohibition of Nuclear Weapons First Meeting of States Parties
Etica will take part in the event as part of the ICAN delegation. At the event, Etica will participate in the meeting by reading an investor statement prepared in collaboration with ICAN which will be presented to international investors for signature in the coming weeks.
Dire, fare, DISARMARE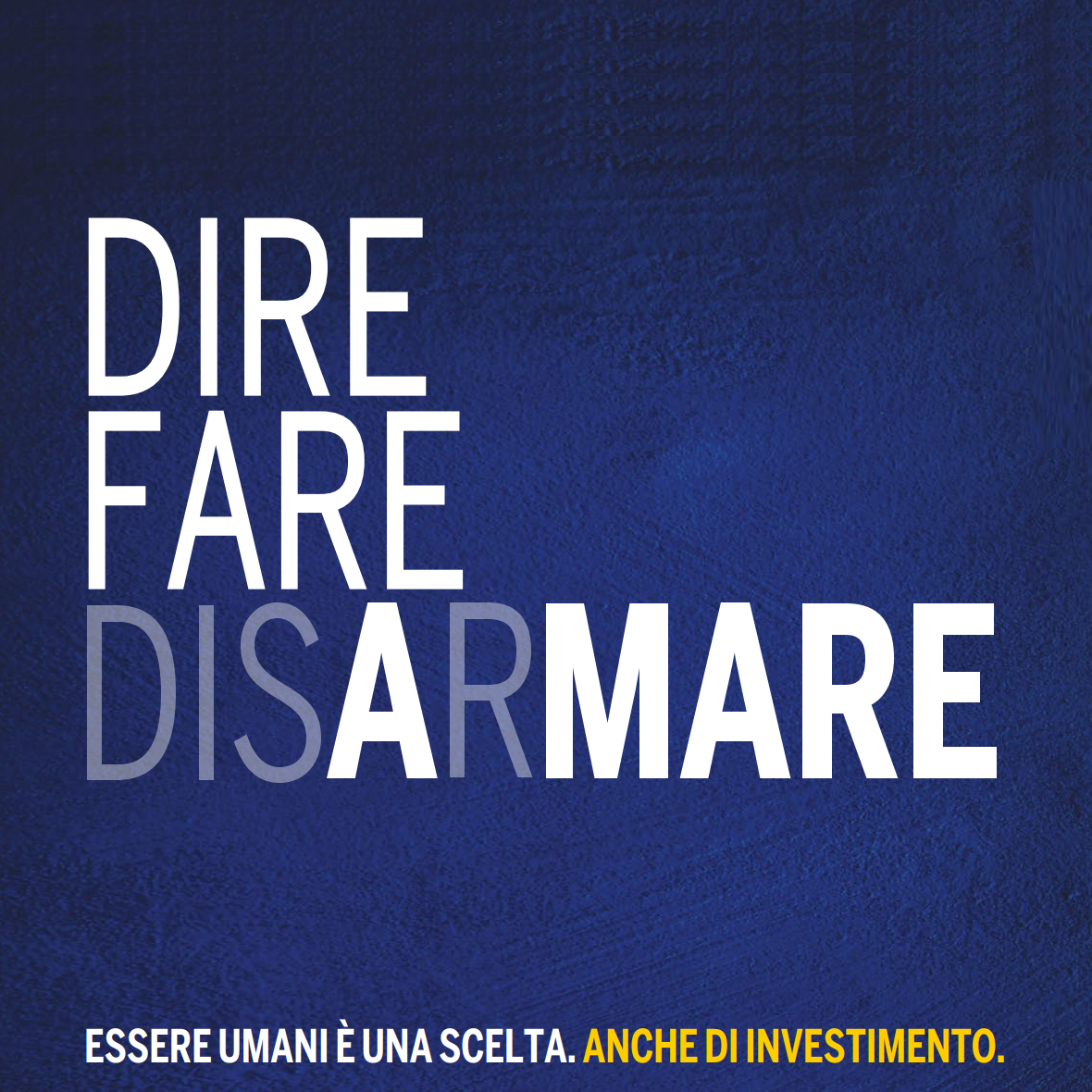 Activities and companies associated with armaments and businesses with links to the production and trade of weapons have always been excluded from the investment funds of Etica Funds. We firmly believe that disarmament and the promotion of a culture of dialogue can help to find new ways to resolve international disputes at risk of becoming a pretext for war.
Moreover, for many years we have directed our dialogue with our partner companies with a view to incorporating our focus on arms – and in particular on weapons of mass destruction such as nuclear weapons – into the policies adopted by other financial operators.
Why are nuclear weapons an important topic?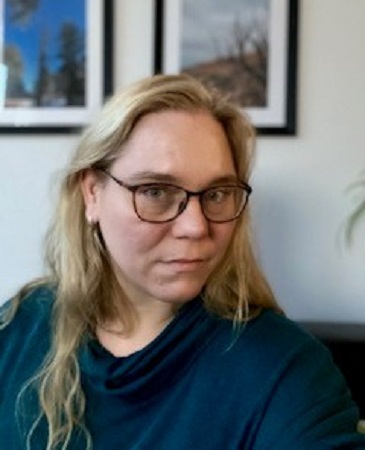 Susi Snyder, Financial Sector Coordinator of ICAN, responds. "Nuclear weapons have unacceptable humanitarian consequences and the risk of their use is growing. Moreover, they are the most destructive, inhumane and indiscriminate weapons ever created. The risk of nuclear weapons being deployed continues to grow and can be eliminated only by an outright ban.
In 2020, nuclear-armed states spent $72.6 billion on their nuclear arsenals. All nuclear-armed states are developing the quality and technology of their arsenals. Of these, six – China, India, North Korea, Pakistan, Russia and the United Kingdom – are also increasing their stockpiles."
What is the goal of the initiative?
"We want countries to eliminate and ban nuclear weapons through the only international treaty designed to do so," Susi Snyder declares. The Treaty on the prohibition of nuclear weapons (TPNW) was adopted by the United Nations in 2017 and entered into force on 22 January 2021.
It is the only international agreement that aims to ban a broad range of activities associated with nuclear weapons, including their use, threatened use, development, possession and storage. The Treaty also promotes support for victims of nuclear weapons and the restoration of radioactively contaminated environments.
There are currently 86 signatory states. The TPNW First Meeting of States Parties in Vienna will be an opportunity for all of the signatory countries to meet."
[1] One of the strengths of the campaign is that the Italian word for "disarm" (disarmare) contains the word "love" (amare). So, obscuring some characters (D, I, S and R) we bring out "love" (amare).