Corporate environmental transparency: in June 2022 Etica Funds, along with 263 investors in 29 countries, signed up to a campaign to encourage companies with a significant environmental impact to publish their data through CDP, the global non-profit organisation that manages the leading environmental disclosure system in the world.
Corporate environmental transparency: Etica Funds with CDP
Etica Funds has supported the CDP's campaign since 2018 and has confirmed its commitment in 2022. The aim is to increase environmental transparency among businesses and persuade them to disclose more information via the CDP platform.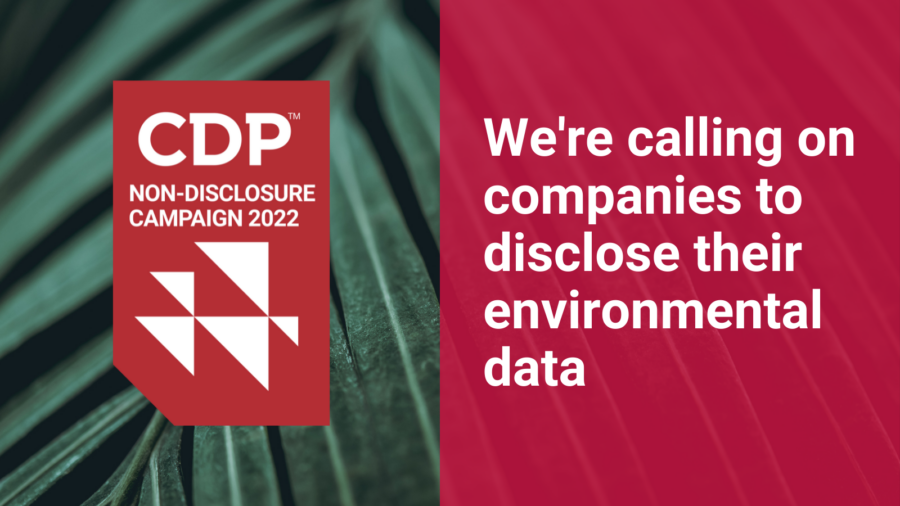 As responsible investors, we understand that corporate environmental transparency and data standardisation are fundamental to directing capital towards the transition to a net-zero future.
The campaign is aimed at over 1,400 companies with a high environmental impact worldwide. These companies represent a market capital of $24 trillion (as at 22 June 2022) and together are estimated to emit more than 4,800 megatonnes (Mt) of carbon dioxide equivalent (CO2e) each year.
Climate change, deforestation and water security have become material topics for many industries. The availability of consistent and comparable data is fundamental to confronting ESG risks and opportunities.
Environmental transparency is an asset for businesses
Etica Funds believes that greater corporate environmental transparency is a crucial factor in improving business performance and creating a more resilient economy.
"Etica Funds has supported the campaign since 2018," commented Aldo Bonati, Stewardship and ESG Networks Manager at Etica Funds, "and this year we are leading the dialogue with five companies. Of these, three have already shown their willingness to publish the requested data."
"Engagement from financial companies is essential to encourage businesses to disclose their environmental data," states Laurent Babikian, Joint Global Director of Capital Markets at CDP. "Climate change, deforestation and water security represent material risks for investments, and companies that don't disclose their impact in these areas risk falling behind the competition in terms of access to capital."
Following the 2021 environmental transparency campaign, around 25% of the companies contacted published data according to CDP standards – an unprecedented result. According to CDP, the success of the campaign demonstrates that companies contacted directly by investors are more than twice as likely to publish data on their environmental impact.
About CDP
CDP is a global non-profit organisation that works to promote the environmental transparency of businesses, cities, states and regions. Founded in 2000, it collaborates with over 680 investors with over $130 trillion of assets. CDP has paved the way in engaging financial companies to persuade businesses to disclose their environmental impact and reduce greenhouse gas emissions, safeguard water resources and protect forests. Over 14,000 organisations from across the globe disclosed environmental data through CDP in 2021, including over 13,000 businesses, which together represent more than 64% of global market capital, and over 1,100 states, cities and regions. CDP, which is fully aligned with the Task Force on Climate-related Financial Disclosure – TCFD, manages the biggest environmental database in the world and CDP scores are widely used to direct investment and procurement decisions towards a sustainable, resilient and net-zero economy.