Plastic pollution: a global agreement supported by Etica Funds and hundreds of stakeholders, including businesses, public bodies, associations and NGOs, to reduce plastic packaging and eliminate the problem at source.
Signatories of the Global Commitment, launched on 24 October 2018 by the Ellen MacArthur Foundation together with the United Nations Environment Programme (UNEP), have almost doubled. One year on, it is time to see how things have gone so far, hence the publication of the "New Plastics Economy Global Commitment Progress Report".
Etica Funds, by way of engagement activities and continuing dialogue with senior managers at its funds' investee companies, has already begun talking to European multinationals in the utilities, chemicals, food and beverage sectors so it can present the initiative and propose concrete, quantified commitments for the reduction and reuse of plastics.
400 organisations committed to combatting plastic pollution
By signing the Commitment in 2018, the organisations pledged to adopt measures: to eliminate problematic and unnecessary plastic packaging; to introduce innovations into the production process so that all plastic packaging is 100% reusable, recyclable or compostable.
The UNEP and the Ellen MacArthur Foundation thus aim to lay the foundations for a common vision of a circular economy to reduce plastic pollution and protect our oceans.
Corporate signatories are largely packaging, food & beverage and distribution giants, but also recyclers and producers of plastics. According to the promoters of the initiative, the signatories are responsible for more than a fifth of all plastic packaging worldwide.
Analysts at the Ellen MacArthur Foundation believe that replacing even 20% of disposable plastic packaging with reusable alternatives could save $10 billion.
The objectives of the Global Commitment
The objectives of the New Plastics Economy Global Commitment are expected to be reviewed every 18 months and become increasingly ambitious. The Ellen MacArthur Foundation and UNEP have outlined three pillars:
Eliminate all problematic and unnecessary plastic packaging, moving from single-use to reusable packaging models.
Innovate to ensure that all plastic packaging can be safely reused, recycled or composted by 2025.
Establish a circular economy for plastics by significantly increasing the amount of material reused or recycled in new products.
The first results of the global agreement a year on
The Progress Report, published a year after the Commitment was signed, provides – according to the organisers – "an unprecedented level of transparency on how almost 200 businesses and governments are changing their plastic production and use" to achieve the targets established in the Commitment, and shows that some progress has already been made.
The private sector
Around 60% of the packaging of signatory companies is already reusable, recyclable or compostable. The Global Commitment pledges that this figure will reach 100% by 2025. Around 70% of the key signatories to the commitment have eliminated single-use straws and plastic shopping bags. And about 80% are eliminating PVC from packaging.
The public sector
There are also many public policies aimed at increasing good practices against plastic pollution. Of the governments and cities that signed the agreement, some – such as France, the United Kingdom, Chile, Rwanda, São Paulo and Austin – are pursuing public procurement policies, fiscal policies and R&D incentives aimed at abandoning polluting plastic and using alternative materials.
Many governments have invested heavily to incentivise the elimination of plastics: the UK is one example, investing £3bn to improve plastic packaging collecting and recycling infrastructure.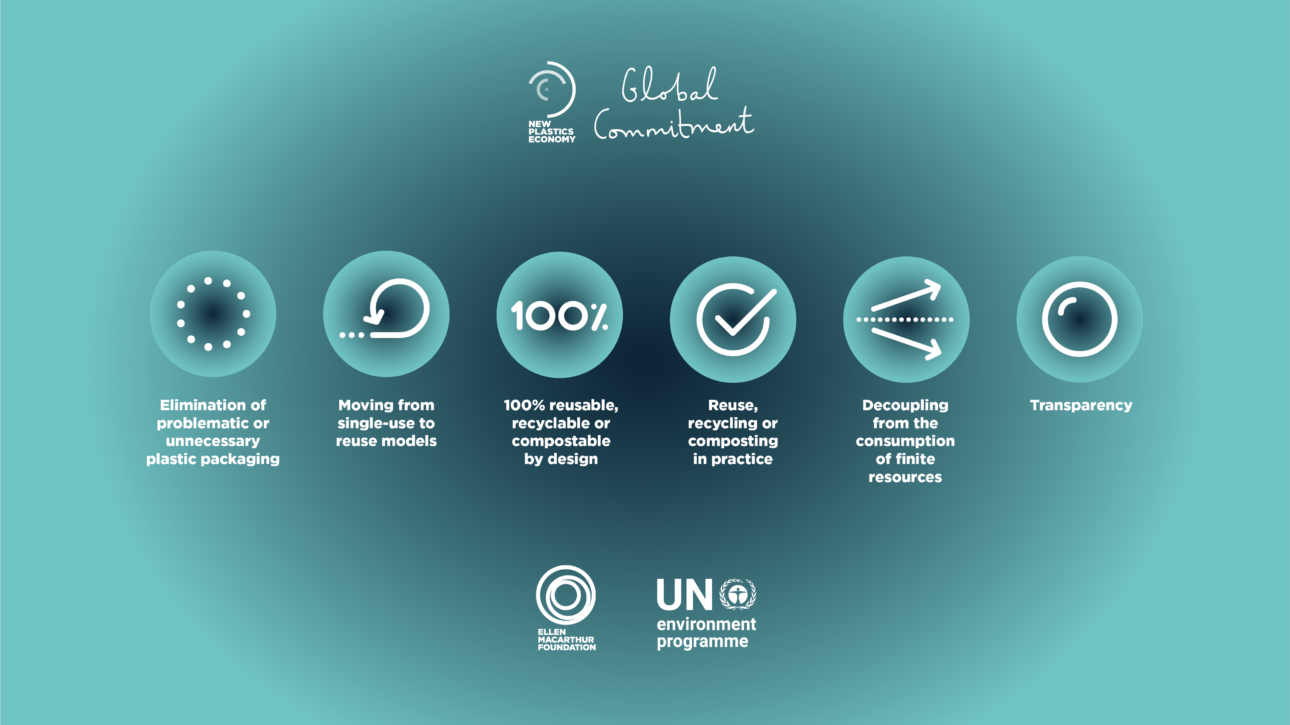 A global effort is needed to eliminate plastic pollution
"Addressing plastic pollution requires a fundamental system shift from a linear to a circular economy for plastic, which is at the core of the New Plastics Economy Global Commitment. The 2019 Progress Report shows how leading businesses and governments are taking actions in such a systemic way. The benefits represent a huge opportunity, and the concerted approach leaves no excuses not to act," said Inger Andersen, UNEP Executive Director. Ms Andersen launched a worldwide appeal: "We need all actors to work together in the plastic pollution crises: UN Environment Programme calls on all relevant businesses and governments to join the Global Commitment."
The next report will be published in autumn 2020, with subsequent reports released every year until 2025.